How to create a website on WordPress? Full Information
Do you want to start your WordPress blog correctly? I already know that your answer is yes and you have been looking for the correct way to install your blog on WordPress. I've decided to share all the information regarding a WordPress blog step by step with the help of screenshots. A newbie user or a blogger can start his own blog within 5 minutes after reading& following this guide. You can start this process with basic information without having any technological knowledge.Install WordPress, Step By Step with Screenshot Complete Information.
WordPress is the best and most popular among blogging platforms and is being used by millions and lakhs of internet user start their blog on WordPress daily.You will find more than 60 million results on the topic of'How to Start a WordPress Blog?'on the internet. Almost every blogger and website owner has written a post on it but in this tutorial, I'll will explain all the information step by step and clearly regarding WordPress blog so that you can understand it easily.
The world of blogging is growing day by day. That's because of a simple reason that everyone wants to share this thoughts with the world. Some start online business for money and some for fame. Therefore, why not start your own blog and earn some money as well as some fame.
What You need to Start a WordPress blog?
You've two options to start a WordPress blog:-
Start a Free WordPress blog.
Start a WordPress blog on self hosting.
You can create your free blog on wordpress.com and your self hosted blog by installing WordPress after purchasing a domain and hosting. I'll suggest you create a self hosted blog because free blog deprive youfrom using all features and you won't be able to customize your blog according to your needs. You can customize your self hosted blog as you wish and can fully manage it.
1.Start a Free WordPress blog:-
You can start your free blog after signing up on WordPress.com. You don't need to buy a domain and hosting for this.
I've already explained this process in an another article. Do read it if you're interested in creating a free blog.
2.Start a Self Hosted WordPress blog:-
You'll need 3 things to create a blog after purchasing hosting:-
A Domain Name (like supportmeindia.com)
A web hosting Account (where your blog stays live on the internet)
Your attention for 30 minutes (so that you can develop your blog without any distraction)
You can create your blog within 30 minutes if you have all these things. The time required for this process depends on your experience.
If you don't have a Domain and Hosting from these 3 items then don't worry. I'll guide you. You'll have to manage your time on your own.
Step by Step process of creating a WordPress Blog:-
After using WordPress for an year, I've only one word for it- 'AWESOME'. There's no doubt that WordPress is the best blogging platform as you can fully customize your WordPress blog.
It provides all the features you need and all the features that you want. Let's learn about creating a WordPress blog:-
1:Register a Domain Name
You'll need a domain name for your blog. It acts as the address of your website and user can access your website by typing it in the browse link bar.
You may purchase hosting and domain from the same company. You'll get a free domain if you purchase hosting from GoDaddy & Bluehost India.
You can register your domain from companies like GoDaddy, Bluehost, Big Rock, 1and1 etc.
I'll suggest that you buy your domain from GoDaddy because their customizing steps are easy and one can easily set it up.
If you buy hosting and domain from two different companies then firstly, add your hosting name server record to domain settings of your domain so that your domain gets connected to your hosting.
You'll need to have information regarding hosting in order to buy a suitable hosting plan for yourself. I've already talked about this in a other post.
You can buy Shared Hosting in the beginning. Upgrade your plan when you reach 10K-20K traffic or buy VPS Server or Dedicated Server. But they are expensive. Therefore buy the business plan of shared hosting which you can get in nearly Rs.500.
Bluehost & Hostgator are the best hosting provider for a WordPress blog. But you'll need a credit card in order to buy hosting from these websites. You'll have to purchase hosting from an Indian Company if you wish to use Debit Card as the payment option.
I'll suggest you following three Hosting Providers if you wish to buy hosting using Debit Card:-
They all provide same kind of services.
Before we move on, purchase the most suitable plan for you from above mentioned companies. Buy from hostgator.com or bluehost.com if you own a credit card. Follow the following steps to install WordPress after buying hosting.
You'll receive an email containing your cPanel username and password from your hosting provider after buying hosting. They'll also send an instruction manual about managing cPanel.
You can install WordPress after signing in cPanel and start your blog. But the important question is how and where to install WordPress software?
3: Install WordPress on Self-Hosting
Step 1:-
Login in the cPanel provided by the hosting company. You can open cPanel by adding cPanel after your domain. Example- example.com/cPanel.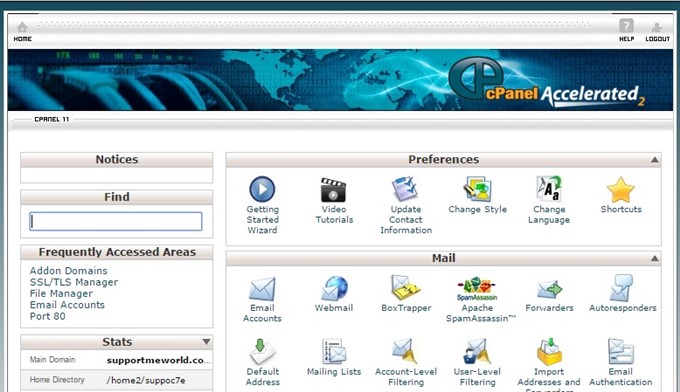 Step 2:-
Click on'WordPress' option after searching in the search box on the left.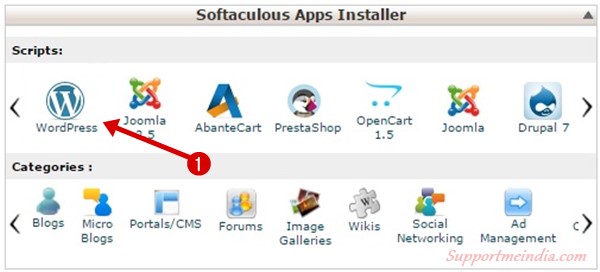 Step 3:- Now you have to fill the basic settings on the page then opened.
Click on the blue coloured Install button.
Choose Protocol: You have to add www or without www, https:// or http:// according to the way you want to set your domain.(Remember that if you have a SSL Certificate that set your URL with https://)
Choose Domain: Select the Domain on which you want to install WordPress.
In Directory: You have to install WordPress on the main Domain, so don't fill this option.
Site Name: Add your blog name.
Site Description: Write a 4-5 words sentence for your blog.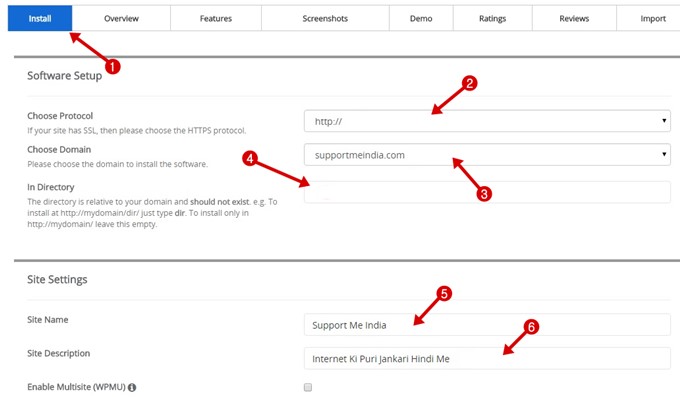 Admin Account Settings:
Admin Username: Select a username for the blog.
Admin Password: Set a password to login in blog.
Admin Email: Add an email address for the blog on which you will manage the blog.

Advanced Options:
Database Name: Leave this option as default.
Table Prefix: Leave this option as default too.
Disable Update Notification: Leave it unselected so that you can receive notifications regarding blog updates.
Auto Upgrade: Leave it as default too.
Auto Upgrade WordPress Plugins: Always update the plugins manually. Therefore leave it unticked.
Auto Upgrade WordPress Theme: You should upgrade it manually. So leave it unticked.
Automated Backups: Select 'Once a Day' or 'Once a Week' so that you have a backup of your blog.
Backup Rotation: Leave it as default.
Email Installation details to: Fill your email address in this option so that you get the username and password which you generated while creating the blog.
Lastly, click on the 'Install'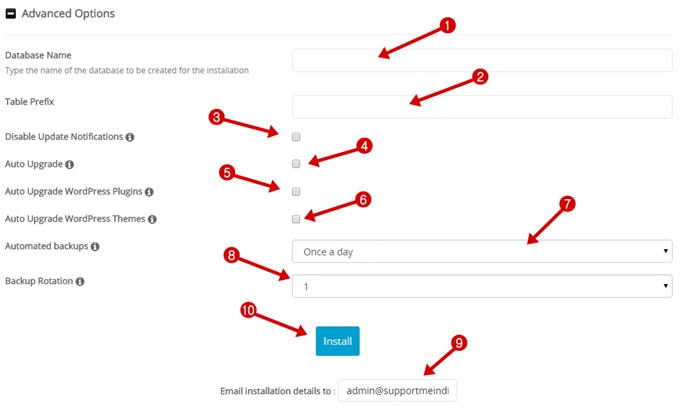 The installation process will begin right after clicking on install. It will take few seconds and it will depend on your internet connection. You'll get all the details on your email once the installation process is over.
You blog is ready. You can access your blog by typing example.com in the URL bar.
4: Select Your WordPress Theme
Step 1:
Go on example.com/wp-admin and login to your ID.
Click on Appearance >> Theme from the left sidebar option.
Click on Add New button on the top.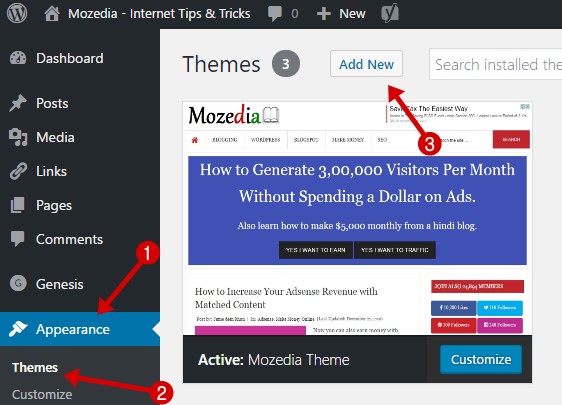 Step 2:
You can upload your theme by clicking on Upload Theme.
Or You can select a theme from wordpress.org.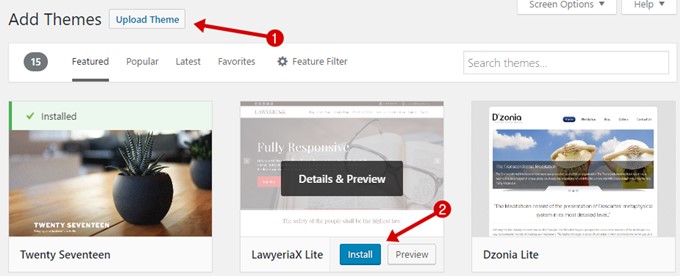 If you have a WordPress theme then upload it by clicking on Upload Theme button. Install a Theme from Themes Directory of WordPress if you don't have one.
You'll get thousands of theme on WordPress.org. You can search using filters like Featured, Popular, Latest, Favourites.
5: Create and Publish Your First Blog Post
Your blog is ready and you have already set the theme of your blog. Now you can publish a post on your blog. Follow the below mentioned steps to do that:-
Go to WordPress Dashboard
Click on Posts >> Add New, in the left sidebar.
Write the content of your post here.
Lastly, Click on Publish

6: Plugins and Customizing Your Blog
After publishing your first post, you'll need to install necessary plugins. You can make your WordPress blog better by using plugins. You'll need plugins for Contact Form, About Us, Social Share buttons, SEO, Site Speed Up in your blog.
I'm listing all the important plugins which almost all bloggers use for their blog. You can install them according to your need:-
Yoast SEO: It's the best and the most popular plugin for complete SEO settings of a WordPress blog.
Jetpack by WordPress.com: It's provides multiple facilities. You can add features like Contact Form Page, Social Share button, Subscribe Post & Comments, Grammar Mistakes, Short Links, Make Image Fast Loading and Related Post etc. to your by using this plugin.
WP Super Cache: It's better to use a cache plugin to speed up a WordPress blog. You can use plugins likeWP Super Cache & W3 Total Cache for this purpose.
Besides, you can use plugins like Contact Forum 7, Fixed Widget & Social Warfare etc. according to your need. In my opinion, you shouldn't installtoo many plugins as it may slow down the loading speed your blog. I'll suggest only to use the 3 above mentioned plugins.
7: Submit Your Blog to Google and other Search Engines
At last, your blog is ready. Now all you need is to list your blog in Google Search Engine and various other search engines. For this, you'll need to use Search Engine Optimization. You'll have to submit your blog to important search engines like Google, Bing and Yahoo.
Submit Site to Google Webmaster Tool
Submit Site to Bing Webmaster Tool
Submit Site to Yandex Webmaster Tool
Besides, you can also submit your blog to Pinterest. You can verify the code which you'll get after submitting your blog to Google, Bing in Yoast SEO Plugin. Your blog will be in search engines' results list after 2-3 days of submitting it to them.
Conclusion
This is how you can start your WordPress blog. To know the answers of questions like What to do after creating a blog?, How to manage it?, How to design it?, read our articles related to WordPress.
I hope that you have started your blog after following this step by step guide.
However, I've told everything in detail regarding domain, hosting, installations , plugins in this post, yet, if you have any queries regarding these then feel free to ask them in comments or you can directly send a mail on admin's email address.
If you liked this post then please share it with your friends and fellow bloggers on social sites. Thank You.